Academic Achievement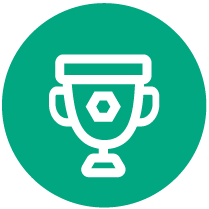 Note on missing data: On March 26, 2021, the U.S. Department of Education waived federal accountability requirements and granted flexibility in administering assessments due to COVID-19. The results displayed within this report card should not be compared to those of other years due to the testing limitations as a result of the pandemic. In addition, these results may be incomplete and may not be representative of the make-up of the State, district, or school population.
Academic Achievement
Questions about what your child should be learning in school?
This indicator displays the End-of-Course test results for students in the four-year on-time graduation cohort file (includes graduates and non-graduates).
NOTE: Additional Achievement results disaggregated across subgroups can be found in the Download Data section of this website.
Overall Student Performance
End-of-Course Assessment Results in English 1 and Algebra 1
English - Scoring C or Higher
District
67.5% (1901 / 2818)
State
63.0% (32277 / 51261)
Algebra - Scoring C or Higher
District
54.6% (1473 / 2696)
State
46.8% (23433 / 50055)
Participation Rates
Additional Information